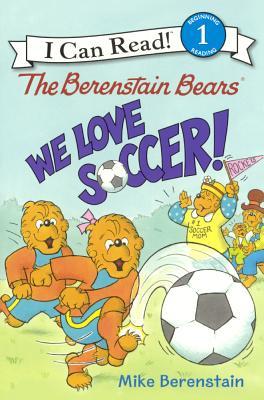 Read for: Early Reader Challenge & Munchkin is playing soccer
Synopsis:
"The Berenstain Bears win big for their family in this exciting addition to the classic New York Times bestselling series.

From passing the ball to scoring goals, there's enough excitement on the soccer field to fill a sunny afternoon, but when Mama starts getting too involved, it's up to the cubs to remind her what playing soccer is really all about!

The Berenstain Bears: We Love Soccer! is a Level One I Can Read book, which means it's perfect for children learning to sound out words and sentences."
My Review:
This was a great book both for young emerging readers and adults. Munchkin has been playing soccer this fall and been having a lot of fun with it and it has been a fun family endeavor with Hubby coaching, but I have noticed that even with the under 6 teams parents and coaches seem to forget that it is for fun. This is an easy book that young readers will be able to identify sight words and sound out new words. It will also be a great reminder that soccer is supposed to be fun.
My Rating: This was a nice reminder that sports are supposed to be fun games, something everyone can enjoy. It was also a great way to bring the sport home and inside. We give it a rating of Four Paws.