Welcome to Magic Tree House Monday!

Each Monday (other than when special events are planned) I will review one book of the Magic Tree House Series by Mary Pope Osborne.
Book 31 sends Jack and Annie on another desperate mission to save Camelot and King Arthur. Merlin summons Jack and Annie and gives them a mission many had failed at in the past. They will face some of their greatest fears to recover a magical sword.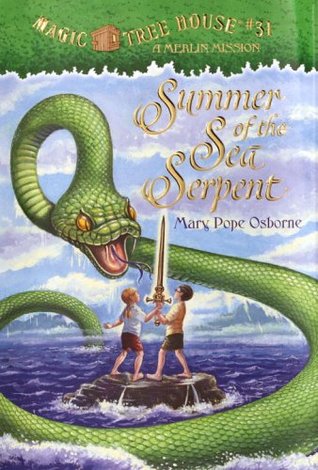 My Review: If you saw my review of the previous book in this series you will note that I felt like Jack & Annie hadn't aged enough for the time gap, well Jack certainly seems to be growing up in this book. There was another long break between the previous book and this book and now they seem to be aging but it is nice to see that the brother and sister duo still have a close friendship. This is another fantasy adventure that Merlin sends them on, and it is a combination of several myths and legends that are interwoven nicely. I do kind of miss the use of research books but they are also having to use their own knowledge and bravery to accomplish their tasks.
My Rating: I am really glad that Jack at least has finally shown some signs of growing up (though the illustrations don't be doing the same). These books seem more and more like a branch off series as opposed to an actual continuation of the series, they are so drastically different from the early books. I still really enjoyed this one and give it a rating of Four Paws.