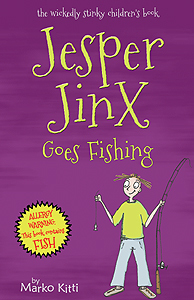 Read for: Requested Review
Synopsis: "Jesper Jinx is eleven, and probably the unluckiest person in all of Puffington Hill. Everything he touches seems to end up in sweet disaster. Hence his nickname 'Jinx'.

The fourth book of Jesper's wonderfully wicked adventures is chock-a-block full of all kinds of fishing tales. There are mackerels to be sure, but also a creature a little bit furrier than a fish running loose on the beach. And it's up to Jesper (aka Detective J. Jinx) to save the day before it turns into a fishy nightmare!

ALLERGY WARNING: This book contains fish!"

My Review: Jesper Jinx is back with all of his antics (many of which go wrong). I have been following these books all along and really enjoy each book on its own and as part of the whole series. While this book can be read on its own, there are hints to events in previous books. I really love how Kitti brings the book into the story (yes you read that right, the books you are reading are also part of the story). This book is full of short and funny tales that happen to Jesper throughout the day, there is never a dull moment and even reluctant middle grade readers will be entertained.
My Rating: I have really enjoyed every one of the Jesper Jinx books and this is no different. I love seeing something that all middle grade readers can enjoy and I look forward to sharing these with Munchkin as soon as he is old enough. I give it a rating of Four Paws!
Jesper Jinx Goes Fishing was sent to me by the author in exchange for an honest review.
Jesper Jinx Goes Fishing has just been released and you can purchase your copy in print or digital formats from Amazon and should soon be available at Barnes & Noble.