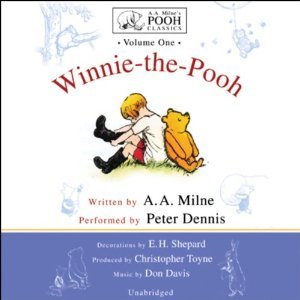 Synopsis: "Come with us to an Enchanted Place, a forest where Winnie-the-Pooh lived with Piglet, Rabbit, Owl, Eeyore, Kanga, and Little Roo. The stories are about Christopher Robin and these good companions having wonderful times getting in and out of trouble. It is all very exciting and, really, quite thrilling no matter how young or old you may be. It is painful to try and imagine what the world would be like without them."

My Review: I downloaded this on a whim the other day when Munchkin was sick and I was loosing my voice after reading so many stories. I had forgotten how wonderful the Winnie the Pooh stories were and I was thrilled to introduce them to Munchkin. We really enjoyed the narration, I honestly don't think you can have Pooh without the voice of Peter Dennis. This really is a children's book worth getting on audio, it will be listened to many times over and be cherished for years.
My Rating: I absolutely loved this book and the audio version just endeared me more. I am so glad I have it to share with Munchkin. I give it a rating of Four Paws and a Stump Wag!