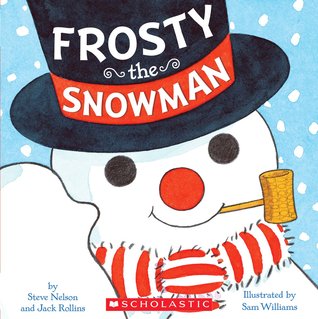 Synopsis: "This holiday classic is brought to life by bestselling illustrator Sam Williams, with a glitter-filled, sparkling cover that shines with wintertime magic.



Written by Steve Nelson and Walter "Jack" Rollins, FROSTY THE SNOWMAN is a seasonally joyful story that continues to warm our hearts year after year. Famous for his cheerful character, whimsical appeal, and, of course, his button nose and two eyes made out of coal, Frosty is the most magical snowman in town.

Join him as he runs here and there, all around the square, saying "catch me if you can." Thumpity, thump, thump, thumpity, thump, thump, look at Frosty go!"

My Review: I dare you to read this book without singing it! I couldn't manage but Hubby was able to read it to Munchkin without the song. Munchkin absolutely loved it, he is now obsessed with snowmen and can't wait for it to snow enough to make one of our own. My copy had the artwork from the movie and Munchkin enjoyed identifying the characters (especially the rabbit).
My Rating: Frosty the Snowman has quickly become a holiday favorite of Munchkins and we have read this book nearly every night. I guess it deserves a rating of Four Paws even though I cannot read it without singing!
Good Night! Sweet Dreams!