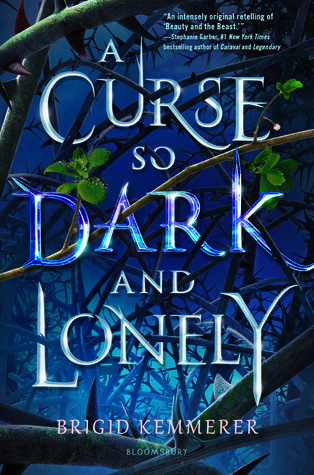 Read for: Recently Added/ Subscription Box book
Synopsis: "Fall in love, break the curse.
Cursed by a powerful enchantress to repeat the autumn of his eighteenth year, Prince Rhen, the heir of Emberfall, thought he could be saved easily if a girl fell for him. But that was before he turned into a vicious beast hell-bent on destruction. Before he destroyed his castle, his family, and every last shred of hope.
Nothing has ever been easy for Harper. With her father long gone, her mother dying, and her brother constantly underestimating her because of her cerebral palsy, Harper learned to be tough enough to survive. When she tries to save a stranger on the streets of Washington, DC, she's pulled into a magical world.
Break the curse, save the kingdom.
Harper doesn't know where she is or what to believe. A prince? A curse? A monster? As she spends time with Rhen in this enchanted land, she begins to understand what's at stake. And as Rhen realizes Harper is not just another girl to charm, his hope comes flooding back. But powerful forces are standing against Emberfall . . . and it will take more than a broken curse to save Harper, Rhen, and his people from utter ruin."
My Review:
I have been drifting away from re-tellings, especially in YA, I have been burned a few too many times. I did however receive this one in a book box and I have a soft spot for all things Beauty and the Beast so thought I would give it a shot. I ended up really enjoying this book. I like the world we are sucked into and the characters are unique. It was also so refreshing seeing diversity represented in physical ability. There are definitely so pacing issues, it does seem to slow way down in momentum at various points and there is little in the way of action or danger until the last 75 or so pages. While it was a slow moving story, and clearly a romance driven book, it still really pulled me in and was an easy page turner.
My Rating: I almost let this one go without reading it, I am glad I decided to pick it up, if for nothing but the diverse representation! But it ended up being so much more than I expected, maybe not the best book in the world but certainly an entertaining one. I give it a rating of Three Paws and a Stump Wag!