I came across this challenge on
Jenniely's Blog
the other day, while she put a unique holiday spin on it, I thought it would be a fun way to work on that TBR pile I have. The challenge was originally created by Lia at
Lost in a Story
and her format is a little more what I will be following.
I recently took a look at my physical TBR and was a little intimidated and shocked to find it sitting at over 300 books, not including the Children's books, Early Reader books or Graphic Novels/Comic Books! Yes you read that right, over 300 books just on my physical shelves! I don't even want to take a look at my ebooks or audio books! So I definitely think it is time to Conquer my TBR!
So here are the steps and rules . . .
Go to your Goodreads to-read Shelf
Sort by Ascending Date Added
Take the First 5 (or 10) Books
Read the Synopsis of Each Book
Decide to Either Keep it or Remove it
This Challenge was originally designed to continue weekly until all books on the To-Read Shelf have been sorted.
I have 1,230 books on my Goodreads To-Read Shelf! If I only sorted 5 books a week that would take nearly 5 years of posting weekly! I think you guys might get a little sick of it. So I will start with some here and continue to sort off page. I may come back and post every so often with an update and another challenge post. So shall we take a peek at those first added To Read books? I started my Goodreads account back in February, 2011, so I expect to find a lot of books that no longer interest me as my reading tastes have changed so much.
Synopsis:
"
Selected by the Modern Library as one of the 100 best novels of all time, Slaughterhouse-Five, an American classic, is one of the world's great antiwar books. Centering on the infamous firebombing of Dresden, Billy Pilgrim's odyssey through time reflects the mythic journey of our own fractured lives as we search for meaning in what we fear most."
Thoughts: I know this is one of those classics that most people read in high school. And I know it is on a lot of those top 100 books to read before you die lists but I am not picking up as many classics anymore, and the ones I do plan to pick up are usually re-reads or ones that really interest me.
Verdict: It goes.
~~~~~~~~~~~~~~~~~~~~~~~~~~~~~~~~~~~~~~~~~~~~~~~~~~~~~~~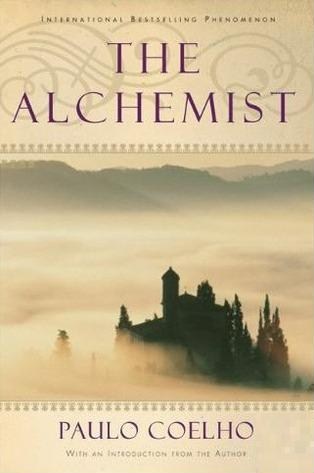 Synopsis:
"
Paulo Coelho's masterpiece tells the mystical story of Santiago, an Andalusian shepherd boy who yearns to travel in search of a worldly treasure. His quest will lead him to riches far different—and far more satisfying—than he ever imagined. Santiago's journey teaches us about the essential wisdom of listening to our hearts, of recognizing opportunity and learning to read the omens strewn along life's path, and, most importantly, to follow our dreams."
Thoughts: I don't think I own a physical copy of this book, that is why it keeps getting forgotten. It does sound like an intriguing and inspiring book. It is also a short book at only 197 pages.
Verdict: It stays but with the contingency of if it is not read by the end of 2019, it goes.
~~~~~~~~~~~~~~~~~~~~~~~~~~~~~~~~~~~~~~~~~~~~~~~~~~~~~~
Synopsis:
"
Lyra is rushing to the cold, far North, where witch clans and armored bears rule. North, where the Gobblers take the children they steal--including her friend Roger. North, where her fearsome uncle Asriel is trying to build a bridge to a parallel world.
Can one small girl make a difference in such great and terrible endeavors? This is Lyra: a savage, a schemer, a liar, and as fierce and true a champion as Roger or Asriel could want--but what Lyra doesn't know is that to help one of them will be to betray the other."
Thoughts:
I have been wanting to read this book forever, but I have been waiting until I have all the books in the series. I haven't been making it a priority to purchase them though. Munchkin is almost old enough to enjoy these books with me as well.
Verdict: It stays.
~~~~~~~~~~~~~~~~~~~~~~~~~~~~~~~~~~~~~~~~~~~~
Synopsis for Eldest:
"
Darkness falls…despair abounds…evil reigns…Eragon and his dragon, Saphira, have just saved the rebel state from destruction by the mighty forces of King Galbatorix, cruel ruler of the Empire. Now Eragon must travel to Ellesmera, land of the elves, for further training in the skills of the Dragon Rider. Ages 12+.
Darkness falls…despair abounds…evil reigns…
Eragon and his dragon, Saphira, have just saved the rebel state from destruction by the mighty forces of King Galbatorix, cruel ruler of the Empire. Now Eragon must travel to Ellesmera, land of the elves, for further training in the skills of the Dragon Rider: magic and swordsmanship. Soon he is on the journey of a lifetime, his eyes open to awe-inspring new places and people, his days filled with fresh adventure. But chaos and betrayal plague him at every turn, and nothing is what it seems. Before long, Eragon doesn't know whom he can trust.
Meanwhile, his cousin Roran must fight a new battle–one that might put Eragon in even graver danger.
Will the king's dark hand strangle all resistance? Eragon may not escape with even his life. . . .
"
Thoughts: Ugh, this book and the next have been taunting me from the shelves. These were some of the first books my husband purchased for me, and he got me the whole series. And they are about dragons and their riders! But I struggled so much with Eragon! I had seen the movie first and it was so different from the book that each page was an effort. And again, I feel like these books might be some Munchkin would enjoy in a few more years. Even my non-reader friend read these books! Why can't I convince myself to read them?!
Verdict: Alright, I am going to keep them a little longer and reassess next year.
~~~~~~~~~~~~~~~~~~~~~~~~~~~~~~~~~~~~~~~~~~~~~~~~~~~~~~~
Synopsis:
"
In
The Wisdom Paradox
, world-renowned neuropsychologist Elkhonon Goldberg argues that though some mental abilities (such as recent-memory recall) decline as the mind enters the "autumn season" of our life span, the brain becomes more powerful in its ability to recognize patterns. As a result, we are able to make decisions at more intuitive and effective levels—a late- emerging mental strength he terms "wisdom."
In lively, accessible prose, Goldberg delves into the mechanisms of the mind, outlining how the elegant structures of the brain develop and change over the course of a lifetime as they work increasingly in concert. Drawing on recent and historical examples of leaders and artists who achieved their greatest successes late in life—from Roosevelt to Thatcher to Reagan, from Goethe to Grandma Moses—Goldberg illustrates the effects of an emerging scientific understanding of the biology of wisdom. Drawing on the latest research in brain function, he takes to task outdated neurological concepts and argues that new neurons can be created throughout our lives, the left brain's specialization in pattern recognition accounts for its increased activity as we age, and the strengthening of neural pathways in later years accelerates decision-making processes. Most provocatively, he outlines how a "cognitive fitness" program can both curtail the negative mental effects of aging and enhance our decision-making powers."
Thoughts: I honestly think I already removed the physical copy from my shelves. I was very interested in how the brain worked at one point, even wanted to be a neurosurgeon but now my reading pretty read for enjoyment and not education.
Verdict: It Goes.
~~~~~~~~~~~~~~~~~~~~~~~~~~~~~~~~~~~~~~~~~~~~~~~~~~~~~~
Synopsis:
"
This breakout novel from the author of The Jump-Off Creek tells the heartwarming story of a determined young woman with a gift for gentling wild horses.
In the winter of 1917, a big-boned young woman shows up at George Bliss's doorstep. She's looking for a job breaking horses, and he hires her on. Many of his regular hands are off fighting the war, and he glimpses, beneath her showy rodeo garb, a shy but strong-willed girl with a serious knowledge of horses.
So begins the irresistible tale of nineteen-year-old Martha Lessen, a female horse whisperer trying to make a go of it in a man's world. It was thought that the only way to break a horse was to buck the wild out of it, and broken ribs and tough falls just went with the job.
But over several long, hard winter months, many of the townsfolk in this remote county of eastern Oregon witness Martha's way of talking in low, sweet tones to horses believed beyond repair and getting miraculous, almost immediate results and she thereby earns a place of respect in the community.
Along the way, Martha helps a family save their horses when their wagon slides into a ravine. She gentles a horse for a dying man a last gift to his young son. She clashes with a hired hand who is abusing horses in unspeakable ways. Soon, despite her best efforts to remain aloof and detached, she comes to feel enveloped by a sense of community and family that she's never had before."
Thoughts:
If you have been around here for any amount of time, you know the way to get me to buy any book is to make it about horses or throw a horse on the cover.
I am still intrigued by this book.
Verdict: It stays but I am going to once again put the must read in 2019 contingency on it.
~~~~~~~~~~~~~~~~~~~~~~~~~~~~~~~~~~~~~~~~~~~~~~~~~~~
The last thing Gwen Cooper wanted was another cat. She already had two, not to mention a phenomenally underpaying job and a recently broken heart. Then Gwen's veterinarian called with a story about a three-week-old eyeless kitten who'd been abandoned. It was love at first sight.
Everyone warned that Homer would always be an "underachiever," never as playful or independent as other cats. But the kitten nobody believed in quickly grew into a three-pound dynamo, a tiny daredevil with a giant heart who eagerly made friends with every human who crossed his path. Homer scaled seven-foot bookcases with ease and leapt five feet into the air to catch flies in mid-buzz. He survived being trapped alone for days after 9/11 in an apartment near the World Trade Center, and even saved Gwen's life when he chased off an intruder who broke into their home in the middle of the night.
But it was Homer's unswerving loyalty, his infinite capacity for love, and his joy in the face of all obstacles that inspired Gwen daily and transformed her life. And by the time she met the man she would marry, she realized Homer had taught her the most important lesson of all: Love isn't something you see with your eyes."
Thoughts: Why haven't I picked this one up?! Probably because I don't want to cry.
Verdict: It Stays!
~~~~~~~~~~~~~~~~~~~~~~~~~~~~~~~~~~~~~~~~~~~~~~~~
Synopsis:
"
Everything readers expect from Follett is here: intrigue, fast-paced action, and passionate romance. But what makes
The Pillars of the Earth
extraordinary is the time the twelfth century; the place feudal England; and the subject the building of a glorious cathedral. Follett has re-created the crude, flamboyant England of the Middle Ages in every detail. The vast forests, the walled towns, the castles, and the monasteries become a familiar landscape.
Against this richly imagined and intricately interwoven backdrop, filled with the ravages of war and the rhythms of daily life, the master storyteller draws the reader irresistibly into the intertwined lives of his characters into their dreams, their labors, and their loves: Tom, the master builder; Aliena, the ravishingly beautiful noblewoman; Philip, the prior of Kingsbridge; Jack, the artist in stone; and Ellen, the woman of the forest who casts a terrifying curse. From humble stonemason to imperious monarch, each character is brought vividly to life.
The building of the cathedral, with the almost eerie artistry of the unschooled stonemasons, is the center of the drama. Around the site of the construction, Follett weaves a story of betrayal, revenge, and love, which begins with the public hanging of an innocent man and ends with the humiliation of a king."
Thoughts: A friend loaned me this book easily 12 years ago and I just have never felt the need to pick it up. It does sound interesting but not nearly 1,000 pages interesting. I have so many other big books that I want to read.
Verdict: It Goes. I wonder if she wants her copy back (oops).
~~~~~~~~~~~~~~~~~~~~~~~~~~~~~~~~~~~~~~~~~~~~~~~~~~~~
Synopsis:
"
On the night of Guinevere's birth, a wise woman declares a prophecy of doom for the child: She will be
gwenhwyfar
, the white shadow, destined to betray her king, and be herself betrayed. Years pass, and Guinevere becomes a great beauty, riding free across Northern Wales on her beloved horse. She is entranced by the tales of the valorous Arthur, a courageous warrior who seems to Guinevere no mere man, but a legend. Then she finds herself betrothed to that same famous king, a hero who commands her willing devotion. Just as his knights and all his subjects, she falls under Arthur's spell.
At the side of King Arthur, Guinevere reigns strong and true. Yet she soon learns how the dark prophecy will reveal itself. She is unable to conceive. Arthur's only true heir is Mordred, offspring of a cursed encounter with the witch Morgause. Now Guinevere must make a fateful choice: She decides to raise Mordred, teaching him to be a ruler and to honor Camelot. She will love him like a mother. Mordred will be her greatest joy–and the key to her ultimate downfall."
Thoughts:
I love Arthurian Legend re-tellings and I have started this one before but got intimidated by it's size. I think it is time to pick it up again.
Verdict: It Stays! And I am going to add it to my 2019 TBR.
~~~~~~~~~~~~~~~~~~~~~~~~~~~~~~~~~~~~~~~~~~~~
So there we have the first 10 books on my Goodreads To-Read list. I did okay I guess. I only removed 3 books but did put contingencies on 2 more. It does feel good to go through and clear out some of those books that don't interest me any more. I also like looking at it from the beginning and getting excited about so of these books again. It will be inspiring for kicking off the new year!
Have you gone through your TBR at all recently? How many books are on your shelf or Goodreads list?