I have been trying to figure out a way to share all these books I read with you but still include other non-review posts on the blog. One method I have come up with was to share the reviews for an entire series (or pair) of books in one post. I will do my absolute best to keep spoilers out of these posts in case you plan to read the books, but there is a slight chance that even the synopsis of a book can give away the result of the previous book. So if you don't want to know anything at all about the later books in a series that might giveaway something in the first book
STOP READING NOW!
I originally picked up the first two books in this series after hearing Kerri Maniscalco talk at the Boston Teen Author Festival last year. I had not thought that it was a series that would interest me but after hearing her talk about the research that went into the series and development of her characters, I had to pick them up. Then they sat on my shelves waiting. I finally decided that I would read them as the 3rd book came out, and even though there is one more book coming, I am glad I will be ready for the hype around it!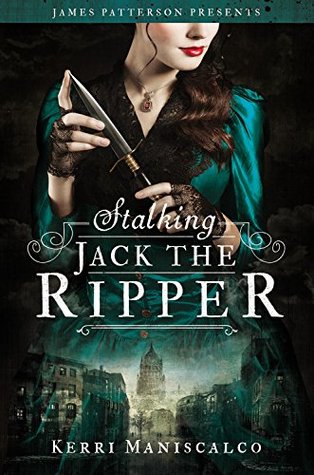 Synopsis:
"
Presented by James Patterson's new children's imprint, this deliciously creepy horror novel has a storyline inspired by the Ripper murders and an unexpected, blood-chilling conclusion...
Seventeen-year-old Audrey Rose Wadsworth was born a lord's daughter, with a life of wealth and privilege stretched out before her. But between the social teas and silk dress fittings, she leads a forbidden secret life.
Against her stern father's wishes and society's expectations, Audrey often slips away to her uncle's laboratory to study the gruesome practice of forensic medicine. When her work on a string of savagely killed corpses drags Audrey into the investigation of a serial murderer, her search for answers brings her close to her own sheltered world.
The story's shocking twists and turns, augmented with real, sinister period photos, will make this dazzling, #1 New York Times bestselling debut from author Kerri Maniscalco impossible to forget."
My Review:
Yet another book that I am wondering why I waited so long to pick it up! I have had the first two books in this series waiting on my shelves since last September and finally am getting around to reading them. Of course fall is the best time to read this one with all the dark and eerie events. I really wasn't sure if I was going to like Audrey Rose, or her relationship with Thomas, but I ended up really loving her (and them together). I love the contradiction of the frilly dresses with her analytical mind and approach to the sciences. I really loved the banter between Thomas and Audrey, the attraction, mutual respect and constant competition really added a fun and light element to what could have become a very creepy book, that could have gone too far into the realm of scary. The twists in the story definitely kept the pages turning as well, I definitely did not see some of them coming and it was so refreshing to be surprised in a YA book. I am a little heart broken at the end but it was a thrilling ride and I cannot wait for the rest of this series!
My Rating: I loved this book, the story and characters really captured me. I love how Maniscalco used an unsolved case to really put her own twist on the story and it was awesome. I give this a rating of Four Paws!
~~~~~~~~~~~~~~~~~~~~~~~~~~~~~~~~~~~~~~~~~~~~~~~~~~~~~~~~~~~~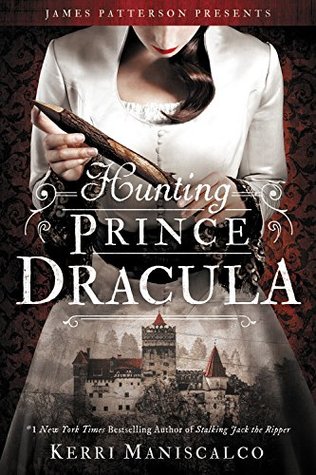 Synopsis:
"I
n this New York Times bestselling sequel to Kerri Maniscalco's haunting #1 debut Stalking Jack the Ripper, bizarre murders are discovered in the castle of Prince Vlad the Impaler, otherwise known as Dracula. Could it be a copycat killer...or has the depraved prince been brought back to life?
Following the grief and horror of her discovery of Jack the Ripper's true identity, Audrey Rose Wadsworth has no choice but to flee London and its memories. Together with the arrogant yet charming Thomas Cresswell, she journeys to the dark heart of Romania, home to one of Europe's best schools of forensic medicine...and to another notorious killer, Vlad the Impaler, whose thirst for blood became legend.
But her life's dream is soon tainted by blood-soaked discoveries in the halls of the school's forbidding castle, and Audrey Rose is compelled to investigate the strangely familiar murders. What she finds brings all her terrifying fears to life once again."
My Review:
Of course I had to pick this one up immediately after finishing Stalking Jack the Ripper. This is a case where random books you read seem connected, I just recently finished the And I Darken series by Kiersten White and it really helped me grasp the setting, the lineage and histories that come into play in this story. I don't know if I would have enjoyed it as much without that backstory knowledge. It definitely had a similar eerie feeling, but for some reason it wasn't quite as scary as the previous book. I did really enjoy the relationship with Cresswell and Wadsworth, their dynamic adds such a fun element to the book and really balances out the dark and gruesome parts. I loved the addition of Dacianna, she was such an awesome character and one I hope we get to see more either in the rest of the series or maybe a branch off book. The next book was really well foreshadowed and led into as well and I am really looking forward to picking it up!
My Rating: I am really glad I was familiar with the backstory of the area for this one, I think it really added to my enjoyment of this book. I did feel like at times it was like a scary movie where you are yelling at the character "don't go in that dark basement where you hear the creepy sounds!" but luckily the other elements of this story really came together nicely and gave me a Three Paw and a Stump Wag read.
~~~~~~~~~~~~~~~~~~~~~~~~~~~~~~~~~~~~~~~~~~~~~~~~~~~~~~~~~~~
Synopsis:
"
Audrey Rose Wadsworth and her partner-in-crime-investigation, Thomas Cresswell, are en route to New York to help solve another blood-soaked mystery. Embarking on a week-long voyage across the Atlantic on the opulent RMS Etruria, they're delighted to discover a traveling troupe of circus performers, fortune tellers, and a certain charismatic young escape artist entertaining the first-class passengers nightly.
But then, privileged young women begin to go missing without explanation, and a series of brutal slayings shocks the entire ship. The strange and disturbing influence of the Moonlight Carnival pervades the decks as the murders grow ever more freakish, with nowhere to escape except the unforgiving sea. It's up to Audrey Rose and Thomas to piece together the gruesome investigation as even more passengers die before reaching their destination. But with clues to the next victim pointing to someone she loves, can Audrey Rose unravel the mystery before the killer's horrifying finale?"
My Review:
I have really been enjoying this series so far, and I am honestly a little glad I waited so long to read it, so that I could jump right into this one. I loved the ups and downs between Audrey Rose and Thomas, it adds a little bit of reality to the story. The part I don't get, throughout the whole series actually, is how everyone is okay with Audrey being on her own with murderers running around. I did find this one a little less engaging as the previous two books, I mostly missed the banter between Wadsworth and Cresswell, but I understand the need for the bit of separation. Of course we also have Mephistopheles, and I am not a fan, he is slimy like an eel and gives me the creeps. With that said I did enjoy the element he added. The setting of the ship and the Moonlight Carnival was very vivid and I loved the picture Maniscalco painted with all the descriptions of the costumes and characters and acts, it added an eerie and yet magical setting. I am very anxious for the next book and will follow this series all the way to the end no matter how long it takes!
My Rating: This book was not as great for me, I wasn't a fan of the side characters in this one and the lack of banter and chemistry was really felt in this book, I do think it is a good addition to the series and the ending looks like a nice transition to better things in the next book. I give it a rating of Three Paws.
~~~~~~~~~~~~~~~~~~~~~~~~~~~~~~~~~~~~~~~~~~~~~~~~~~~~~~~~
Full Series Review: I am glad I took so long to read this so that I could pick up book 3 right away but at the same time, sad that I might have missed some of the fandom excitement. I really did enjoy this series so far and loved the suspense. What I really like is that it is perfectly eerie with all the gruesome murders, but it is not outright frightening as a reader. You get those heart pounding moments but they are lightened by the banter between Cresswell and Wadsworth. I am definitely looking forward to the next book, and every other book if they are released. I give this series a rating of Three Paws and a Stump Wag overall so far!