I have been trying to figure out a way to share all these books I read with you but still include other non-review posts on the blog. One method I have come up with was to share the reviews for an entire series (or pair) of books in one post. I will do my absolute best to keep spoilers out of these posts in case you plan to read the books, but there is a slight chance that even the synopsis of a book can give away the result of the previous book. So if you don't want to know anything at all about the later books in a series that might giveaway something in the first book
STOP READING NOW!
I have had And I Darken on my radar for some time now but never picked it up. For some reason I really didn't pay attention and was expecting a fantasy, but it is really a historical fiction. This series is a re-telling of Vlad the Impaler, with a gender swap. I wasn't sure I would get into it but saw that Kiersten White would be at the Boston Teen Author Festival and wanted to read some of her books before the event. So here we go with the series review . . .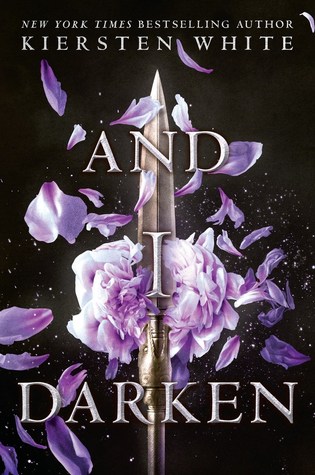 Synopsis: "No one expects a princess to be brutal. And Lada Dragwlya likes it that way. Ever since she and her gentle younger brother, Radu, were wrenched from their homeland of Wallachia and abandoned by their father to be raised in the Ottoman courts, Lada has known that being ruthless is the key to survival. She and Radu are doomed to act as pawns in a vicious game, an unseen sword hovering over their every move. For the lineage that makes them special also makes them targets.
Lada despises the Ottomans and bides her time, planning her vengeance for the day when she can return to Wallachia and claim her birthright. Radu longs only for a place where he feels safe. And when they meet Mehmed, the defiant and lonely son of the sultan, Radu feels that he's made a true friend—and Lada wonders if she's finally found someone worthy of her passion.
But Mehmed is heir to the very empire that Lada has sworn to fight against—and that Radu now considers home. Together, Lada, Radu, and Mehmed form a toxic triangle that strains the bonds of love and loyalty to the breaking point."
My Review:
I didn't know a whole lot about this book going in, but with Kiersten White coming to the Boston Teen Author Festival this year I thought I should give it a go. For some reason I was thinking it was a fantasy book but clearly it is a historical fiction and I was not disappointed by that fact. Maybe it was just that it has been ages since I last read in the genre but I was really drawn in and consumed this book very quickly. I absolutely loved Lada, she was exactly the type of character I enjoy reading; strong, confident, protective but brutal, she gets the job done no matter the cost to her or others. I also really enjoyed the characters around her and how they fit into the puzzle of the story, and it was a bit of a puzzle with all the political intrigue and maneuvering. That was possibly my favorite part about this book are all the politics. Definitely a series I cannot wait to continue!
My Rating: As much as this wasn't what I was expecting, I was totally consumed by it! I loved so much about this book, the characters were awesome, the time period and setting were awesome, the story line was awesome; so of course I give it a rating of Four Paws and a Stump Wag!
~~~~~~~~~~~~~~~~~~~~~~~~~~~~~~~~~~~~~~~~~~~~~~~~~~~~~~~~~~~
Synopsis: "Lada Dracul has no allies. No throne. All she has is what she's always had: herself. After failing to secure the Wallachian throne, Lada is out to punish anyone who dares to cross her blood-strewn path. Filled with a white-hot rage, she storms the countryside with her men, accompanied by her childhood friend Bogdan, terrorizing the land. But brute force isn't getting Lada what she wants. And thinking of Mehmed brings little comfort to her thorny heart. There's no time to wonder whether he still thinks about her, even loves her. She left him before he could leave her.
What Lada needs is her younger brother Radu's subtlety and skill. But Mehmed has sent him to Constantinople—and it's no diplomatic mission. Mehmed wants control of the city, and Radu has earned an unwanted place as a double-crossing spy behind enemy lines. Radu longs for his sister's fierce confidence—but for the first time in his life, he rejects her unexpected plea for help. Torn between loyalties to faith, to the Ottomans, and to Mehmed, he knows he owes Lada nothing. If she dies, he could never forgive himself—but if he fails in Constantinople, will Mehmed ever forgive him?
As nations fall around them, the Dracul siblings must decide: what will they sacrifice to fulfill their destinies? Empires will topple, thrones will be won . . . and souls will be lost."
My Review:
Again, why did I wait so long to read this series?! I think I actually enjoyed this, the second book, more than the first and that is a rare thing. I loved the character development of each character on their own and the way their relationships change as the world around them changes. Lada is such a strong character, she has so much determination and will stop at nothing to achieve the goal she set out for, no one can stand in her way. She is brutal and punishing to those who oppose her but she feels that it is necessary to improve the country she loves and make it a better place for those around her. Radu faces a whole different struggle, while he might not be as physically brutal as his sister, he does have to make just as hard of decisions. I feel like Radu really developed in this story, he found the lines he will and will not cross and begins to question how far he will go for someone who does not love him the way he wants. Both siblings face insurmountable obstacles and decisions but they are stronger for it. I cannot wait for the final book!
My Rating: I really enjoyed seeing the character development in this series. Lada especially, she is tough and confident and goes after what she wants, but she isn't above learning. Now I Rise also didn't have the second book slump that I have come to expect, I give it a rating of Four Paws and a Stump Wag!
~~~~~~~~~~~~~~~~~~~~~~~~~~~~~~~~~~~~~~~~~~~~~~~~~~~~~~~~~~
Synopsis:
"
Haunted by the sacrifices he made in Constantinople, Radu is called back to the new capital. Mehmed is building an empire, becoming the sultan his people need. But Mehmed has a secret: as emperor, he is more powerful than ever . . . and desperately lonely. Does this mean Radu can finally have more with Mehmed . . . and would he even want it?

Lada's rule of absolute justice has created a Wallachia free of crime. But Lada won't rest until everyone knows that her country's borders are inviolable. Determined to send a message of defiance, she has the bodies of Mehmed's peace envoy delivered to him, leaving Radu and Mehmed with no choice. If Lada is allowed to continue, only death will prosper. They must go to war against the girl prince.

But Mehmed knows that he loves her. He understands her. She must lose to him so he can keep her safe. Radu alone fears that they are underestimating his sister's indomitable will. Only by destroying everything that came before--including her relationships--can Lada truly build the country she wants.

Claim the throne. Demand the crown. Rule the world."
My Review:
Like many others I have heard of Vlad the Impaler, but I was not familiar with his exact story, so I had no idea where this retelling would take us. Boy was this final book in the trilogy a ride! It was full of ups and downs and of course brutal truths and battles. I still really love how intense Lada is in reaching her goal and maintaining it. She has never hidden who she is or where her goals and loyalties lie. Radu though has had a lot to over come, has had to hide so much and discover so much even about himself and his loyalties. Throughout the series I have loved following the dynamics of the sibling relationship, obviously far more dramatic than my own but still something I can see in some degree in my own life. How far will you go to reach your goals? What will you do for those you love and what line will you not cross? I do not want to leave these characters behind but White, as brutal with her writing as Lada is with a blade, has given us no choice and I love it!
My Rating: We really got to see dynamics and life paths shift in this book and the epic result of those choices. I was totally not ready to see this series come to an end but was thrilled with the journey and the conclusion. This book definitely gets another Four Paws and a Stump Wag rating!
~~~~~~~~~~~~~~~~~~~~~~~~~~~~~~~~~~~~~~~~~~~~~~~~~~~~~~~~~
Full Series Review: Wow! I was not expecting so much out of this series, and some of it may have to do with the fact that it is so different than what I have been reading lately so it was like a breath of fresh air. No matter why, it was a fantastic series that completely consumed me for a few weeks! I loved the characters and the way they each developed individually and in relation to one another. I was also thrilled with how Kiersten White portrayed the story of Vlad the Impaler, she definitely did not hold back and put all of his brutality out there on the page. I highly recommend this series and if you can definitely try the audio books, I switched between print and audio books and it was fantastic. I give this series a rating of Four Paws and a Stump Wag like I could give it anything else!
I loved this series so much that I want to give one of you the opportunity to read it as well. So I am having a giveaway for a paperback copy of And I Darken and the ARC of Now I Rise to get you started. The rules are same as before . . .
~You must be 16 or older to enter
~This giveaway is for my followers, as a thank you for sticking with me over the years, or joining me now, I, of course welcome new followers!
~Enter the giveaway via the below Rafflecopter methods (I will be checking the required items and if you are not a follower as required, your entry is void, I have had too many entries in the past looking for quick handouts and not actually interacting with my blog).
~Open internationally but the winner is responsible for any extra customs fees that your country may add on.
~Giveaway ends midnight on the 15th, winners will be selected the next day (I will be contacting you via email)