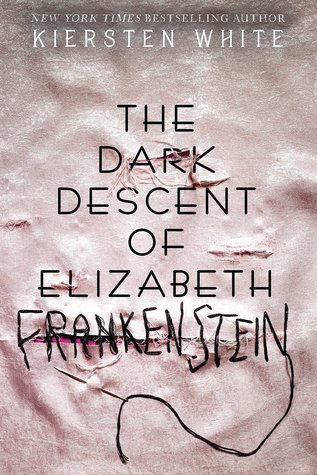 Read for: Recently Added
Synopsis:
"
Elizabeth Lavenza hasn't had a proper meal in weeks. Her thin arms are covered with bruises from her "caregiver," and she is on the verge of being thrown into the streets . . . until she is brought to the home of Victor Frankenstein, an unsmiling, solitary boy who has everything--except a friend.
Victor is her escape from misery. Elizabeth does everything she can to make herself indispensable--and it works. She is taken in by the Frankenstein family and rewarded with a warm bed, delicious food, and dresses of the finest silk. Soon she and Victor are inseparable.
But her new life comes at a price. As the years pass, Elizabeth's survival depends on managing Victor's dangerous temper and entertaining his every whim, no matter how depraved. Behind her blue eyes and sweet smile lies the calculating heart of a girl determined to stay alive no matter the cost . . . as the world she knows is consumed by darkness."
My Review:
With my love of Frankenstein, this book obviously became one of my most anticipated releases of the year. I found it really intriguing what White did with the minor side character of the original story, she created a character that is very complex and fully developed. Being familiar with the original story I had a pretty good idea where Elizabeth's story would lead, but Kiersten White threw us a really fantastic twist to the story. She really manage to capture the same dark tone of the story, even though we have such a different perspective. I spent the first half of the book really missing the creature though as he was my favorite part of the original book, but he was integrated into the story in the later half in a spectacular way. Definitely pick this book up, it might start a little slow for some readers (especially if you haven't read or are not a fan of Frankenstein) but it is worth hanging in to the end!
My Rating: I often wonder if any adaptation or re-telling can come close to an original story, but while this doesn't rank quite as high as Frankenstein as a retelling, it definitely has a very strong standing on its own. I thoroughly enjoyed all the various twists that White integrated, creating a new viewpoint and story. I give it a rating of Four Paws!!
You never really know what to expect with retelling and adaptations of your favorite book but I am so happy to say this one blew me away and I am excited for others to enjoy it and be able to chat with me about it. So, I am going to give you a chance to win your own hardcover copy with a signed book plate!
Of course the same rules as before:
~You must be 16 or older to enter
~This giveaway is for my followers, as a thank you for sticking with me over the years, or joining me now, I, of course welcome new followers!
~Enter the giveaway via the below Rafflecopter methods (I will be checking the required items and if you are not a follower as required, your entry is void, I have had too many entries in the past looking for quick handouts and not actually interacting with my blog).
~Open internationally but the winner is responsible for any extra customs fees that your country may add on.
~Giveaway ends midnight on the November 6th winners will be selected the next day (I will be contacting you via email)
This is my final giveaway for my month long blogoversary celebration. I hope you enjoyed it and thank you for all of the new followers, I hope you will stick around for a while as I post several times a week and have the upcoming Advent Reads in December full of holiday books for you!