Hello everyone! I haven't done a tag in quite a while and for some reason was really inspired by The Great Pumpkin, Charlie Brown movie but couldn't find any book tags for it! So I decided to try to create my own book tag, this is my first time so be gentle and please let me know if you participate!!
1. It's the Great Pumpkin, Charlie Brown! Have you ever had a book that gives you a seasonal vibe from the cover or title and then read it and find it is set in a completely different season?
I have read a couple recently that fit this (and honestly this was kind of the inspiration for the whole tag). First is One Summer Night, looks and sounds like a summer book right? Wrong, it is actually set in the fall and winter. Then we have New Leash on Love, looks like a fall book right? Wrong, it is set from late January through spring and summer. This makes it so difficult to read and blog about books, I try to gear them towards the season and holidays.
2. I am going to kick that football this time! What is a common twist that you see happen again and again but keep hoping something different will happen instead?
Ugh, the miscommunication/ lack of communication that happens in romance books. It drives me crazy when there is a secret between the couple and the opportunity to discuss comes up several times but they keep failing to bring it up. I keep hoping that in some book the characters will just come clean, hash it out and move on.
3. Waiting in the Pumpkin Patch. What are some overly common tropes you see in fall or Halloween books that you can't stand (or love if you rather)?
Nice witches, I am so tired of seeing them be nice and approachable, helping people and fixing curses. What happened to the double, double toil and trouble witches with warts on their noses?
4. Everyone is a witch or ghost. If you could dress up as any character from a book, price and availability don't matter, who or what would you be?
Oddly enough I would want to dress up as Eadlyn or America in the Selection series, I really want to wear all those big poofy princess dresses!
5. Snoopy hunts the Red Baron. What book had such a vivid world that you felt like you could be there and lost track of the real world?
I got really wrapped up in the Winner's Curse Trilogy. All the mind games just kept me in the moment in that world.
6. I got nothing but rocks! What is a book that you were really anticipating this year but turned out to be a major let down?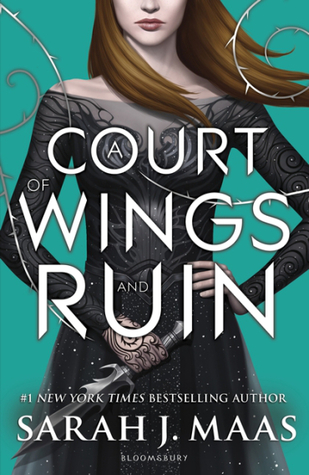 While this isn't a horrible book, I still gave it I think Three Paws, it just didn't hold up to A Court of Mist and Fury at all! So sad!
7. Look at all the candy! What is your most recently acquired book that you are so excited about that you can barely contain yourself? (can also be a book coming out before the end of the year)
Just look at that cover! I am so excited to read this one, I am just clearing off my current books and then diving into this one!!
8. The Great Pumpkin is a classic, tell me about your favorite classic book.
So many great classics out there but if you have been around for any amount of time here you know my only answer will be Frankenstein!
So that wraps up this tag! I hope you enjoyed it and I hope you will join me!!