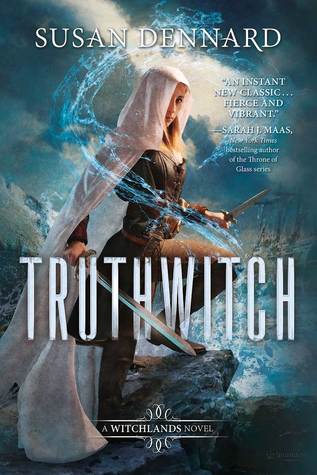 Read for: Recent Purchase & BTAF
Synopsis:
"In a continent on the edge of war, two witches hold its fate in their hands.

Young witches Safiya and Iseult have a habit of finding trouble. After clashing with a powerful Guildmaster and his ruthless Bloodwitch bodyguard, the friends are forced to flee their home.

Safi must avoid capture at all costs as she's a rare Truthwitch, able to discern truth from lies. Many would kill for her magic, so Safi must keep it hidden - lest she be used in the struggle between empires. And Iseult's true powers are hidden even from herself.

In a chance encounter at Court, Safi meets Prince Merik and makes him a reluctant ally. However, his help may not slow down the Bloodwitch now hot on the girls' heels. All Safi and Iseult want is their freedom, but danger lies ahead. With war coming, treaties breaking and a magical contagion sweeping the land, the friends will have to fight emperors and mercenaries alike. For some will stop at nothing to get their hands on a Truthwitch."
My Review:
I have heard great things about this book and series so figured I would pick it up. I tried to read it many times but kept putting it down. I did finally make it through on this last attempt but it was a long slow slog. A few of the issues were that the point of views changed with no break or notice throughout the book and the voice of Safi & Iseult were far to similar to define them. It took well into the book for me to figure out who had what power. On that subject it sounds like a unique and really awesome magic system but it is so poorly (read not at all) explained and so you spend a lot of time confused. It is also the same with the world building, there is a big lack of it, the settings are not clear nor are the political systems or people in power, what little there is comes late in the book and you really have to pick up on these details and put them together for yourself. There is a lot of action, which is great, but without the connection with the characters it falls rather flat. All in all a really disappointing read for me, I do already own the next book and I will probably pick it up in hopes that the writing improves but I will most likely stop there with this series.
My Rating: I can't tell you how disappointed I am in this book, I am an avid fantasy reader and while some things do need to be figured out on your own but there are far to many gaps in this one. I give it a rating of One Paw and a Stump Wag.