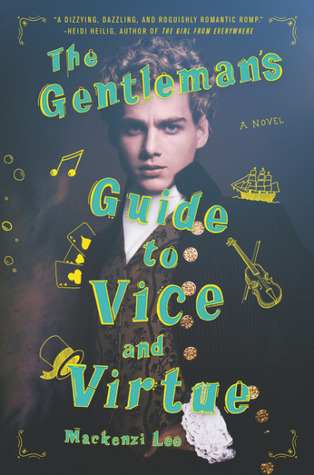 Read for: Recent Purchases/Subscription Box & BTAF
Synopsis:
"Henry "Monty" Montague was born and bred to be a gentleman, but he was never one to be tamed. The finest boarding schools in England and the constant disapproval of his father haven't been able to curb any of his roguish passions—not for gambling halls, late nights spent with a bottle of spirits, or waking up in the arms of women or men.

But as Monty embarks on his Grand Tour of Europe, his quest for a life filled with pleasure and vice is in danger of coming to an end. Not only does his father expect him to take over the family's estate upon his return, but Monty is also nursing an impossible crush on his best friend and traveling companion, Percy.

Still it isn't in Monty's nature to give up. Even with his younger sister, Felicity, in tow, he vows to make this yearlong escapade one last hedonistic hurrah and flirt with Percy from Paris to Rome. But when one of Monty's reckless decisions turns their trip abroad into a harrowing manhunt that spans across Europe, it calls into question everything he knows, including his relationship with the boy he adores."
My Review:
I received this book in my July Owlcrate box but had wanted to read it anyway in preparation for the BTAF. I had been expecting a lot more sights along the road in this European tour but it ended up off course. The journey ended up kind of meandering with reaction to events throughout, some of it seemed a little unnecessary and along a tangent. The characters were definitely each unique and well developed, even though I didn't end up liking Henry other than his humor. Percy was awesome and his struggles were unique and that really comes out throughout the book. The best character by far was Felicity, though she doesn't exactly fit the time period norms (Lee tried to work around those but the character personality was too strong to conform). In the end it really wasn't my cup of tea but I know a lot of other readers will really enjoy this book, it is a light and entertaining read (even though it does approach polarizing issues, it does not go in depth with them, just glosses over), perfect for a summer vacation.
My Rating: This one kind of let me down, it just didn't really work for me. The plot seemed kind of meandering even though it was supposed to be some epic and dangerous adventure I wasn't left feeling that way. Maybe it was the style of humor that took away from some of the dangers and excitement for me. I know others will really love it but for me this was a Two Paw and a Stump Wag book.
I received this book as part of the July Owlcrate book subscription box. It has been a while since I last had a subscription box (after getting burned by NovelTea Club) but I have once again received a few different subscriptions and decided to start posting the box with the book review.
The theme for July was Wander and it was full of fun travel themed bookish items. I did love the extras that go with the book (letter & map), I also really love the Lord of the Rings backpack. The little notebook is also cute and I think I will turn it into a bookish wishlist to carry with me in case of a book shopping spree. The rest of the items weren't high on my list, I wasn't a huge fan of Harry Potter so the Newt Pop keychain is just something extra hanging around the house. Munchkin did take off with the luggage tag, but it was a bit bulky for small luggage anyway. And finally the pocket mirror for Darker Shade of Magic series may end up being good, but I have yet to read the series. All in all I think if you really like popular books and bookish items this box is worth it (if you have a coupon code). August's box theme was Something Wicked Comes This Way and has already been shipped, but September's Box theme is Mythical Creatures which promises to be a great box and is currently for sale on
OwlCrate's Website